Are you considering building a website that will improve your business? But did you know that it involves a lot of money to build a site from nothing? Yes, Building a service-based website from scratch will require further investment and time. Then comes WordPress web development, a well-known CMS (Content Management System), that you do not have to pay a large amount for unique site creation.
WordPress offers a variety of features that are helpful in generating attractive websites. It has appeared as a trustworthy and adequate platform for Web development companies for creating professional websites and eCommerce stores. Selecting a WordPress platform for site development can help you in the future functioning of your business
Here are a few of the advantages offered by custom WordPress web development for the business.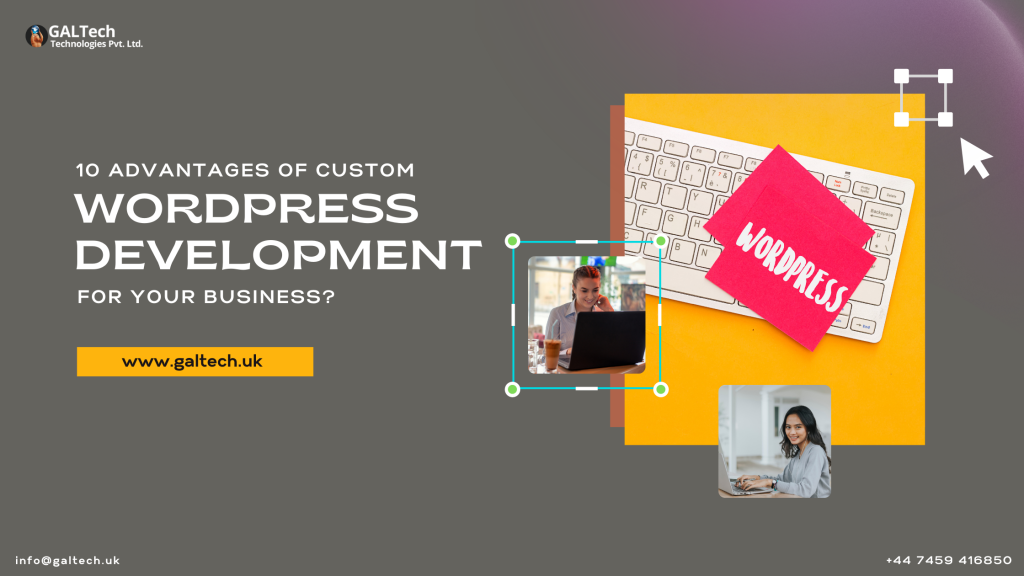 Completely Customizable
The major reason for selecting and transforming a website into WordPress is its flexibility and simpler customization options. WordPress website development services capitalize on this platform due to the options available for customization. The background design can be changed easily with the credentials of the paid version. From the users' angle, organising and controlling content such as adding texts, photos, videos, etc can be done easily. without affecting the functioning of the website.
Excellent Impact With An Affordable Cost
Another benefit of WordPress is its cost-effectiveness. It is reasonable because it is an open-source platform and its design, development, and maintenance are relatively cheap compared to other platforms. Users can control and revamp the site themselves.
Moreover, making a custom website with an experienced WordPress development agency is more feasible for a high-quality end-to-end solution that would not be possible without proper experience.
Open-Source Platform
WordPress is established on a source code that is free and not a complicated task to modify. At present, there are more than 55,000 plugins (most of them are affordable and simple to use) that assist to customize web pages, grabbing specific details and making the website more SEO friendly.
More User-friendly
WordPress started as a blogging platform. Because of this, it is easy to edit content without a bunch of website management experience and understanding. The administrator can effortlessly operate with the backend of their WordPress site and enhance the appearance of your site by reworking pages and uploading fresh content.
It is easy for users who do not have proficiency in WordPress web development to operate their site. Lack of understanding is not a problem as there are countless lessons across the internet.
Plugins Available For Additional Features
WordPress permits you to customize a website with a limitless number of plugins. Plugins installed to expand functionality or add unique features. All you have to do is discover the right plugin with the function you want and install it. It is important to note that most plugins are free.
It can be complicated for amateur users to get habituated to and operate them. The most suitable option is to work with professional developers who will be able to use various features of WordPress and maintain the site up to date.
Availability of Themes
WordPress offers you a wide range of customizable themes to draw the audience and fulfil a wide range of essentials. Themes are beneficial in deciding the look and feel of your website. In WordPress, you will find a variety of themes to choose from that serves different business needs. Permits users to download themes corresponding to the category and use them to develop stunning websites that can support promoting the brand presence online.
Secure Platform
There is a possibility of information leakage on the website, and the consequence of such leakage is huge business losses. For instance, an e-commerce site may have a large customer base and its details may be weak and easy to hack, resulting in loss of customer data and trust. Since WordPress is a well-known CMS platform, its developers work hard to prevent hacking of their sites. Using the latest tools and technologies, WordPress developers can protect their sites from hacking.
Massive Community
The best thing about WordPress is its massive community support. This community includes well-paid WordPress developers, creators, CEOs and task managers who work tirelessly on WordPress sites for running their websites smoothly. Whenever you run into problems with WordPress, you can locate different development-related tutorials that you can refer to.
Excellent Blogging Platform
WordPress generally designed as the most suitable blogging platform. When building a website, it comes with a broad range of blogging features such as tags, widgets, plugins, categories, and more. Likewise, built-in blogs are a basic feature of WordPress.
SEO Friendly
WordPress is the search engine's favourite because its neat and simple code makes it easy to read and index content on your site. Aside from that, you have complete dominion over the SEO component settings on a per-page basis, allowing you to reach higher search engine rankings.
Conclusion

If you want to create a business website that suits your needs and does not require distinct coding, then WordPress is one of the most uncomplicated and suitable platforms to get your business online. You can build and manage your own website, but there are more advanced opportunities to make the best out of this platform. Contact us. GALTech Technologies are a professional web design agency London. We make sure to meet your WordPress development needs, create your website engaging and draw your target audiences.