In this article, we will explore some of the advantages of working with an expert web design agency London that you should consider when preparing for your web design project.
Websites are the mirror of your business to the world and are necessary to the marketing strategies of every company. Everyone requires a website, and there is a huge need for web design services. How do you select from all of these choices? Here are seven reasons to consider functioning with a professional web design company.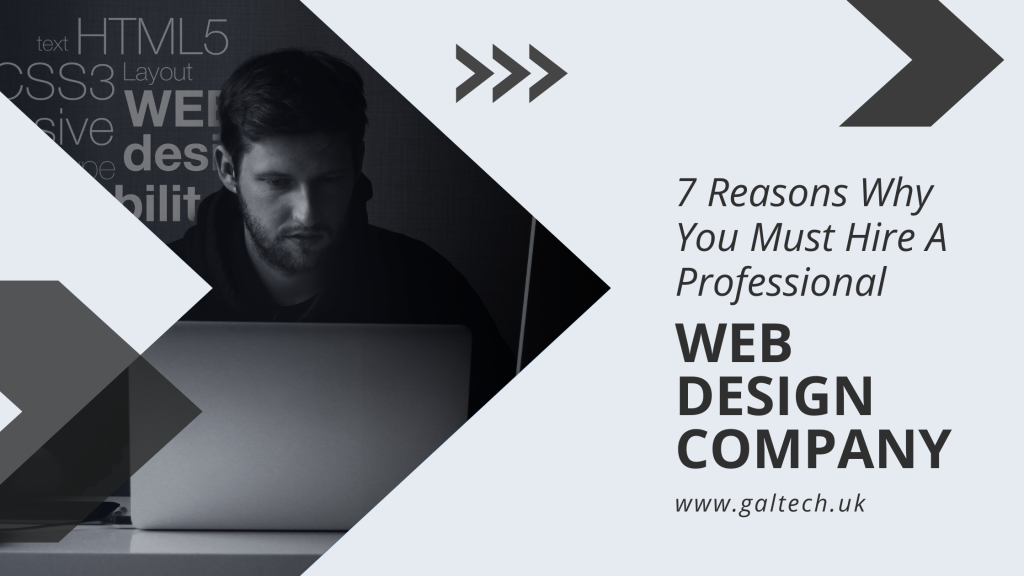 Expert Assistance
One of the most significant reasons why you should employ an expert to design your website is to pursue help from their expertise in this field. The proficiency and knowledge of the website design specialist will assist you to design the website according to your requirements. Website design involves an understanding of machine languages or various software applications.
Apart from that, many problems can arise in the stage between design and the last step of the development process of the website. Resultantly, employing a specialist assures that business owners need not worry because professionals take care of their websites to achieve the purpose of that website. In addition, a professional web designer can also assist business owners in buying and registering domains, web hosting, email configuration, and different other services.
Procedure
All experienced Web design company UK follows a straightforward approach based on their experience while designing and developing a website. The various stages involved in this procedure are:
The initial step involved in building a website is to conclude the strategy. Study and preparation for starting a business handle is a base for designing and further advancing the development of a website.
This step involves completing the visual look of a website including different custom design features.
This step involves turning a design idea into a reality. Website developers improve website performance and add content to it.
This step involves testing the performance of a website on various browsers and separate devices.
This step involves adding any features if necessary and launching the website on a live server.
In this last step, observe the site performance, and make routine updates to the website content. To improve website performance this step will repeat several times.
Price and Time Effective
one more advantage of hiring a professional web design agency London is that it allows the business owner to save more time and money. For instance, if a business owner determines to create a website on its own, they should invest a lot of time and effort for building the same. As an effect, it may be difficult for them to concentrate on their business. Similarly, even after spending a lot of time, effort and money, they may not obtain the outcome they wanted and make full use of their website. Ultimately, their valuable time and money will invest without any productive outcomes. Although employing a professional, even though it involves paying for their work, the results obtained can be more than what they expended. Also, their professional perspective helps them to create a website for their clients on time, which is another added advantage.
Industry Vision
The work of proficient agencies applied in website design services not restricted to just website design and development. They also keep an eye on future developments and website performance and the launch of new apps. Their vision benefits producing websites that can persist in the growing digital world and reach out to their probable tech consumers.
Extensible Service
When a business website is initially launched, it may have minimum restricted features. As their business grows, their needs change and they may like to add additional features to their website. Thus, a professional agency with experience in website development services can be helpful in this kind of condition. Their proficiency is not just limited to creating or enhancing the original appearance of the website. But also offers extensibility to add improved functionality when required, without redesigning their whole website.
Updated Resources
The advantage of employing a professional agency is that they use their understanding of the trends regarding website development. Indeed, these learnings can assist agencies to design their clients' websites according to their requirements and deliver better results. They make consistent updates about the current trends and have a well-functioning squad with updated resources that support developing websites depending on the kind of business in which they are developing their website.
Customer Support
Another advantage of employing a professional Web design agency London that provides website design services is that it offers customer support to business proprietors at every stage during their start. So, this allows them to handle their business operations more adequately and efficiently. Employing professional website developers benefits business owners to create a visually professional presence in the digital world and draw more customers. Where the visible appearance of the business is maintained by the agency; business owners can shift all their attention to developing their business. Other than that, it is extremely crucial to choose the right agency, which can assist the business to get the best benefits from their websites.
Final Thoughts
In fact, these are just a few of the numerous benefits of working with a professional web design company. GALTech Technologies is a leading web design company, based in UK & UAE. We help regional businesses to be recognized around the world through our Web development services. We have the ability, experience, and expertise to design & develop outstanding, effective, and responsive websites that will suit your budget.

If you have questions or want to know more about the professional web development process, do not hesitate to contact us. If you are planning to create a new site or want to upgrade an existing one, contact us today!