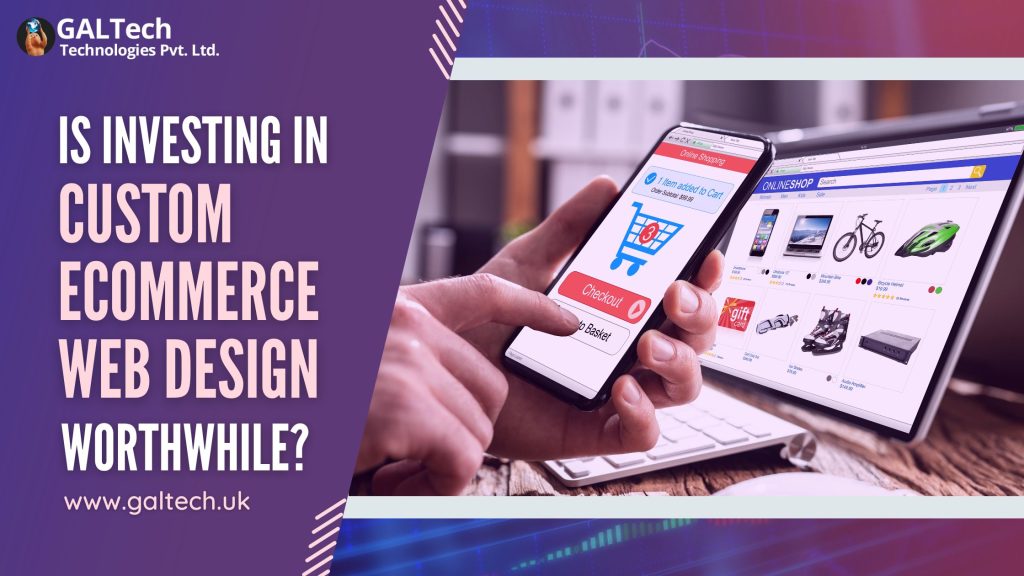 Here we evaluate three design options for launching a new e-commerce website in this post. Continue reading to find out when each approach is the best course of action, pick your favorite, and be free to put it into practice with GALTech's custom ecommerce website development services. The selection of custom ecommerce solutions when creating an e-commerce website is one of the choices that will have a significant impact on the development of the website. Three distinct options—website templates, custom design, and a headless e-commerce solution—each have varied resource requirements, that change in how well they can be tailored to the requirements of a shop, and are thus better suited for certain business contexts.
Website Templates: A Time And Money-Saving Option
Website templates are pre-organized web pages that you may further customize with your content and upload your product catalog. If you require to quickly build an affordable website, this is the answer to choose. However, as such a website won't be remarkably customizable, you'll only be able to locate templates that correspond to your ideas. Ecommerce developers can share with you design best practices, help you compile all of your design ideas and expectations into a requirements specification, and identify the ideal match on template stocks, all of which will be of great use to you in this situation.
Custom Ecommerce Website Design: A Unique And Customized Solution
One may create a website from the scratch. This is the time when you work closely alongside web designers, plan out specific user experiences. And finally, have website pages mocked out and coded. Once you are certain that no template offers the experience you needed, you choose a custom ecommerce solutions. For businesses that currently have a strong offline presence and brand recognition, this frequently makes sense.
Headless Ecommerce – First Experience E-Commerce Solution.
A novel kind of website architecture called "headless" separates the front-end theme from the back-end functionality. In a headless eCommerce system, the back end is hosted by any database-driven application, while website design is created on any front-end framework. This allows you unmatched ability to design any form of client experience and visual presentation with significantly fewer development resources needed. Go straight to this post where I explore headless eCommerce in length, provide examples to help you understand it, and list the types of businesses that could profit from it the most if you're interested in it and think it would be the ideal option for your company.
Which Site Design Option Is Best, Then?
I don't want to use platitudes and recommend major organizations should use custom eCommerce website design. While small businesses should stick to website templates or a headless solution. Your design needs to fixed based on the design requirements. And they shouldn't necessarily be dependent on the size of your business. Please get in touch with our eCommerce team at any point if you need assistance developing and implementing a cost-effective design approach.
The three factors determine whether to implement a custom ecommerce development or not:
1. The amount of time needed to make something operational
2. The characteristics are necessary to support an assumption (MVP)
3. The money that an individual ready to invest
Time
Most commonly, we'd choose a pre-built solution like WooCommerce if a customer wants a website up as quickly as possible. It depends on the features required. You can just create a short one-page form if you don't require the standard e-commerce flow (products -> item -> cart -> checkout -> buy). We would next enquire what features the firm needs if someone ready to wait for anything in the making and developed.
Features
Our choice of custom ecommerce solutions is frequently and heavily influenced by the essential features of an eCommerce business. We commonly consider how the system will pan out used by the end user. How it relates to software that has already been pre-built, and how much work it would take to add that functionality into the existing store.
In contrast to attempting to operate within the constraints of pre-existing software. We would start looking at constructing something that matches the demands of the end user. If product settings and checkout procedures exceedingly complicated. We must also consider how long it would require to develop something from scratch vs how long it would take to adapt a platform like WooCommerce or Shopify to meet our needs. In certain cases, starting from scratch rather than sticking to the specifications of an existing solution is faster.
Investment
When money is insufficient, it might be wiser to forego some features and keep things as straightforward as possible. To ensure that your investment will provide a return (this is where GALTech Technologies comes in). GALTech offers custom e-commerce development services. Additionally, if an investment is going to be sustained over time, we'd think about choosing a platform like WooCommerce or Shopify that end users can update rather than writing code that needs to be updated by developers.
Final Thought
To conclude, stop wondering if an e-commerce site should really create from scratch. Or whether you ought to utilize a platform like WooCommerce or Shopify! Consider your funding, how fast you want it, and whether your store needs distinctive eCommerce features. Also, keep in mind that features should indeed be closely related to what consumers actually require. Because we can only know for sure if we put our assumptions right in front of them.
If you're having these questions in your mind, Why not ask us? We do delighted to speak with you and learn more about your needs. You could require customized ecommerce solutions, or you might not.